Basic Therapeutic Approaches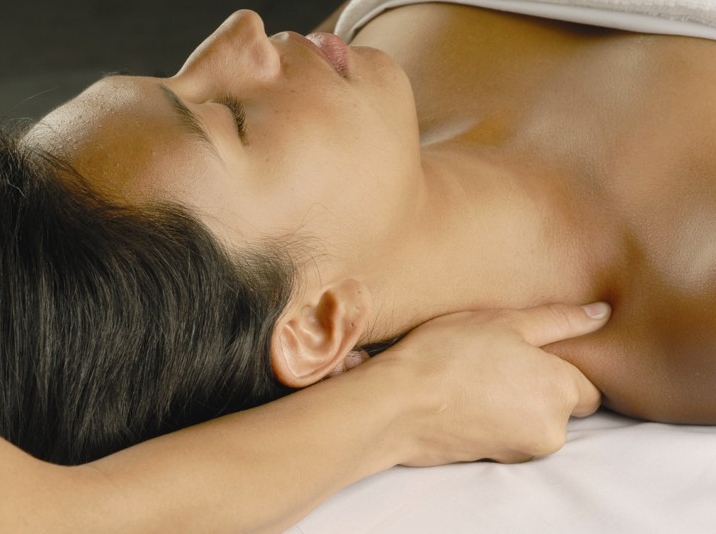 Neuromuscular Therapy: A research-literate and evidence-informed approach to soft-tissue wellness that includes precise palpation of skeletal muscle and related tissue, and employs a specific series of manual therapeutic protocols to address chronically tense bands of muscle fibers, muscular neural entrapments, muscle fibers misaligned from previous injury, and soft-tissue adhesions. These techniques require moderate pressure and specialized massage strokes to reach deep into the affected tissues. Neuromuscular Therapy protocols encompass Myofascial Trigger Point Therapy as well as the other massage techniques described below. Read about the history of Neuromuscular Therapy here.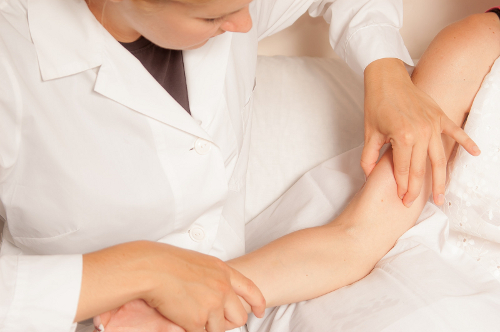 Myofascial Trigger Point Therapy: A specific deep tissue massage protocol designed to locate and release chronically contracted muscle fibers, commonly experienced as taut bands or "knots," which occur in well-documented patterns. Trigger points can be sensitive to pressure, and can refer pain in predictable patterns to other regions of the body; they can also functionally shorten muscles and inhibit range of motion. They are treated with precise, moderate pressure directly to the site of the trigger point to encourage the contracted muscle fibers to release. A more detailed discussion of trigger points can be found here, and you can see a demonstration of trigger point work by Stewart Wild, LMT CNMT CMTPT, in this video from the Oakworks Educational Series.
Specific Therapeutic Techniques

Myofascial Work employs slow, low-angled traction with light to moderate pressure to gently mobilize superficial soft tissue and related fascia, a body-wide web of connective tissue that envelops and interconnects muscles, tendons, ligaments, bones, and internal organs. Myofascial techniques are often used as lotionless "dry work" to begin a session (helping to warm up tissue and assess its pliancy), and in focused deep local glides to help lengthen muscle fibers following trigger point work. See a demonstration of Myofascial techniques by Walt Fritz, PT, in this video from the Oakworks Educational Series.

Swedish Massage is the classic Western style of stress-relieving massage, with long, flowing glides and light to moderate pressure. Swedish massage is both relaxing and restorative, and is an ideal warmup and calm-down technique for deep tissue work. For clients with heightened tissue sensitivity, Swedish can be an excellent stand-alone technique.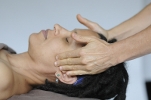 TMJ Therapeutic Massage includes specialized extraoral and intraoral Neuromuscular and Trigger Point work for the muscles affecting the movement of the temporomandibular joint and lower jaw, as well as the muscles that typically refer pain to the area. Extraoral work features no to minimal lotion; intraoral work is performed with latex-free gloves, and requires a separate authorization and acknowledgement of informed consent from the client (found at the bottom of the Client Health History form). See these videos for demonstrations of extraoral and intraoral therapeutic massage techniques by Stewart Wild, LMT CNMT CMTPT.

Assisted Stretching features precise and carefully applied stretching techniques to help reset the resting length of muscle fibers following deep tissue work. One particularly effective approach, Muscle Energy Technique (MET), is specifically designed to help increase flexibility and improve range of motion.
Usui Reiki

Developed in Japan in the 1920s by Mikao Usui, and rooted in earlier Shinto and Tendai Buddhist traditions, Usui Reiki is a Japanese meditative practice that aims to promote stress reduction and relaxation. Clients rest comfortably throughout the session while the practitioner applies a standardized pattern of gentle, non-invasive hand positions. (Please note that Reiki is not a manual therapeutic technique; I offer it as an adjunct practice for interested clients.)
Supplies Used
For your good health, I use high-quality, plant-based massage oils, gels, and lotions formulated by respected manufacturers. These products are free of parabens, Cocamide DEA/MEA/TEA, mineral oils, petroleum jelly, artificial coloring agents, and artificial fragrance oils. For sensitive skin, I carry pure grapeseed oil, which is gentle, unscented, and highly absorptive. Ingredient Lists are available for all oils, gels, and lotions I use.
Therapeutic Massage Rates
Initial Appointment
Ninety Minute Session (includes a comprehensive health history review, discussion of current muscular/soft tissue conditions, postural, muscle length, and range-of-motion assessments as appropriate, and sixty to seventy-five minutes of integrated therapeutic massage based on individual client needs): $100
Subsequent Appointments (includes a brief health check-in, appropriate reassessments, and integrated therapeutic massage)
Sixty Minutes: $85
Ninety Minutes: $130
Reiki Session Rates
Reiki sessions are performed with the client clothed and resting comfortably on the massage table; a light blanket and table warmer are available for added comfort. Limited gentle massage to help relieve stress in exposed areas (hands, hairline, back of head, neck) may be incorporated into the session as deemed appropriate, and with the client's consent.
Sixty Minutes of Reiki: $85
Add Fifteen Minutes of Reiki to Any Therapeutic Massage Session: $25 additional
Payment
Payment is accepted via personal check, credit/debit card (Visa/MasterCard/American Express/Discover), and smartphone-based contactless payment systems such as Apple Pay and Android Pay. Returned checks will be assessed a $30 fee in addition to the original payment amount.



Discounts
I offer a standing discount of $10 on initial ninety minute therapeutic massage sessions ($15 on subsequent sixty minute sessions, $25 on subsequent ninety minute sessions, $5 discounted per fifteen minute addition of Reiki), and $15 on sixty minute Reiki sessions for senior citizens (60 years of age and older), military personnel (active duty, veterans, and their dependents), uniformed emergency responders (police, firefighters, paramedics, EMTs, and correctional officers), public school teachers, and healthcare professionals. Please bring proof of age or occupation to your first appointment to qualify for the discount. Only one category of standing discount may be applied per client.
Tipping
I am an independent licensed practitioner whose professional orientation and training are therapeutic and clinical in nature, and I set my rates accordingly. Tips are honored, but never expected.
Insurance, FSAs, HSAs
While I do not bill insurance companies directly, I do provide a detailed receipt, including applicable insurance codes, for each massage session at the client's request.
Likewise, I provide detailed receipts for participants in FSAs (flexible spending accounts) and HSAs (health savings accounts). If you have an FSA or HSA, first check with your employer to see whether therapeutic massage is covered; if so, you'll typically need a prescription or written referral from your physician for therapeutic massage, and the massage will be intended to properly address a current medical condition (for example, stress, tension headaches, persistent muscle pain, TMJ disorder).
Referrals to Other Practitioners
Effective healthcare is a team effort. I gladly and conscientiously recommend the services of a number of local wellness and healthcare professionals to clients seeking to expand or deepen their healing efforts --- including physical therapists and massage therapists with highly specialized skills such as sports massage, pregnancy massage, and lymphatic work.
Client Referral Cards
Personal recommendations are very important for massage therapists, and I sincerely appreciate your referrals! Current clients are welcome to print out and share Referral Cards with friends, family, and coworkers. When someone you've referred completes their initial ninety minute massage session, you both receive a $10 discount --- the referred client receives the discount on their initial ninety minute session, and you receive it on your next sixty or ninety minute session. Referral discounts may be combined with an appropriate standing discount for each party.